Neighborhood eats nearby include by flavor
Chinese – House of Chen – 335 Noe between Market & 17th – CLOSED – I haven't found a replacement in the 'hood.  See other favs below for alternatives.
Indian – Kassa – corner of Noe & 18th
Local – Firewood Cafe – 4248 18th near Diamond, Roto Chicken – OK wood fired pizzas – salads  CLOSED
Mexican – Zapatta – Corner of 18th & Collingwood CLOSED
Pizza (best) – Pizzeria Stefano – 19th Street between Noe & Sanchez – traditional Neapolitan woodfired pizza – yummm
Pizza (premium) – Pizzeria Delfina – 3621 18th Street near Guerrero – be prepared to wait a while but people watching is worth it.  Plenty of bike parking in front.
Thai – Thai House Express – corner of 19th & Castro
Other favorites about the city
Richmond District
Dim Sum (high end) – Hong Kong Lounge – 5322 Geary Blvd near 18th Avenue.
Dim Sum (budget) – Wing Lee Bakery – 503 Clement Street near 6th Closed on Tuesdays
Chinatown/Downtown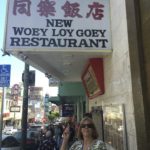 Chinese (best Wor Won Ton soup) – New Woey Loy Goey Restaurant – 699 Jackson St, just down hill from Grant Street on the right hand side, the first restaurant that you have to go down stairs to enter on the right hand side of the street.  Uncle Richard Yee said it was the best.  If you are not asian, you may likely be the only one at this place.  Avoid noon to one lunchtime, it's totally packed.
French – Any number of places in Belden Alley (east of Kearney) between Sutter & Bush
SOMA
Indian – Chaat Cafe – 320 3rd Street near Folsom
Neapolitan pizza – Pazzia – 337 Third Street at Harrison
Mission
Italian – La Traviata – 2854 Mission Street near 24th
Veggie Indian – Udupi Palace – 1007 Valencia Street  at 21st.